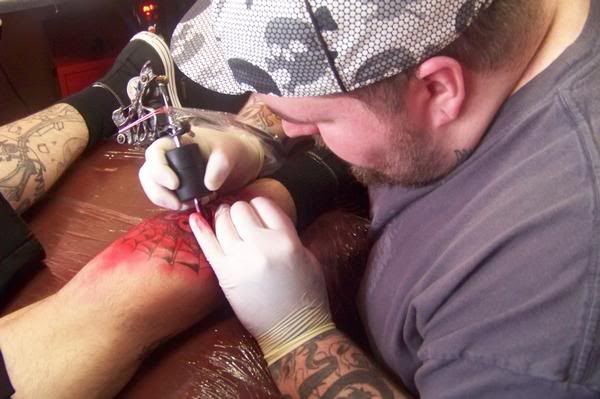 Christmas is right around the corner. Have you done any good for humankind yet? Ryan Adams of Inspired by Ink in Columbus, Ohio has. He's working on a tattoo inspired coloring book for Toys for Tots- the organization that helps deliver toys to children in need around the holidays.
Ryan said the idea to create the coloring book "just sort of fell into (my) lap" one day while thinking of ways he and the other artists at Inspired by Ink could help out this holiday. He feels he's truly blessed to be able to support his family by doing something he loves, and helping out others who don't have as much means a lot to him. The coloring book isn't the only thing Ryan's involved with this season; his shop is also planning a food drive and working with Coats for Columbus- A local organization that to provide coats to needy people during the winter season.
So far the idea has mostly been spread by word of mouth until it reached the ears of Karen L. Hudson-About.com's guide to all things tattoo- who placed an advert on her tattoo page for help from tattoo artists around the globe. The response has been overwhelming and Ryan's had tattoo artists from as far as India and Australia submitting their tattoo related artwork for the book.
Want to help out?
Ryan's hard at work finalizing the book for this holiday, but you can still help out. If you're an artist and would like to submit a drawing, you can email them over to Ryan through the middle of next week. Not an artist? Ryan could use your help with printing too. If you know of a printer company in the Ohio area willing to donate some time, get them in contact with Ryan. Donations for paper and ink are also welcome.
Get in touch with Ryan:
Ryan Adams- Inspired by Ink . Columbus, OH
Email: staytruetat2@yahoo.com
Myspace: myspace.com/staytruetat2
Or leave him a message here and we'll make sure he gets it.
So roll up your sleeves and get crackin', there's not a lot of time left until Christmas is here. Maybe if we show Ryan enough love he'll make this an annual thing. (We did hear a rumor that might happen!)