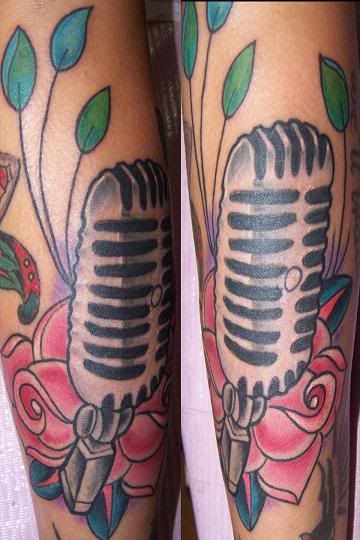 If you live in the Ohio area you might want to check out the Inspired by Ink shop in Columbus. Inspired by Ink is the home of Ryan Adams, the tattoo artists we talked about in the previous post, Help Design A Tattoo Coloring Book For Needy Kids. Ryan was gracious enough to give us an interview, and let us in on a great discount his shop is running in the very near future.
Inspired by Ink was opened eight years ago by Michelle, a retired body piercer. Since then the shop has grown to include Ryan, his apprentice Ben, and the resident body piercer, Cory. (They are looking to expand, so if you think you know of an artist in the area who might be a good fit let us know, and we'll get the information over to them.)
Ryan, who is mostly known around here for his extensive charity work, has been an artist for seven years. He got his start in pottery, but found a passion for drawing after getting his first tattoo. Inspired by his new ink he began drawing, and shortly after that he started work in Indiana as a tattoo artist before moving to Ohio and joining up with Inspired by Ink.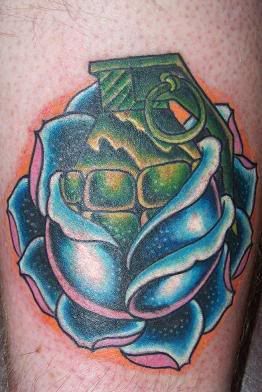 According to Ryan, the best part about his job is his clients.

"It's amazing, you always have new ideas that people are coming to you with, and it keeps things interesting. I can say I never get bored tattooing. It doesn't matter if it's tribal, or full out color bomb. I love it all."
The only downside to his job is the amount of time it keeps him away from his wife and daughter, but other then that he has no complaints.
Ryan has had a lot of tattoo work done himself. Some of his pieces include; a neck piece of a skull puking blood, a hand grenade and bloody teeth inscribed with K.O. on his knuckles, and a portrait of his grandmother.
When asked if Ryan had any advice for the ink fans out there, he had this to say;

"Make sure that the artist you are going to is a good one, and do not price shop. It's going to be on you for life, and no price is worth a bad tattoo. So look for an artist you like. Make sure you get along with them, and you feel comfortable."
I have to say I agree with Ryan. That is advice we should all be practicing.
Ryan and everyone at Inspired by Ink will be celebrating the shop's eighth anniversary on March 13th, 2009. They will be doing lucky #13 tattoos all day long for $13 (with a $7 tip.) They are also running charity events throughout the holiday season- if you're in a charitable mood, give them a call.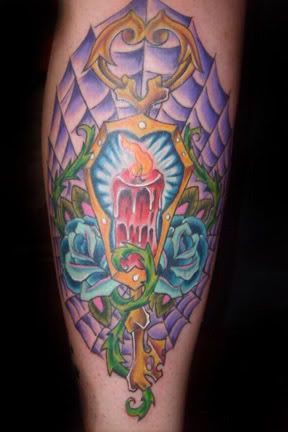 If you want to get in touch with Ryan Adams, or Inspired by Ink, you can reach him on his myspace page, or by e-mail at: staytruetat2@yahoo.com
You can also leave them a comment here, and we will make sure it gets to the right person.