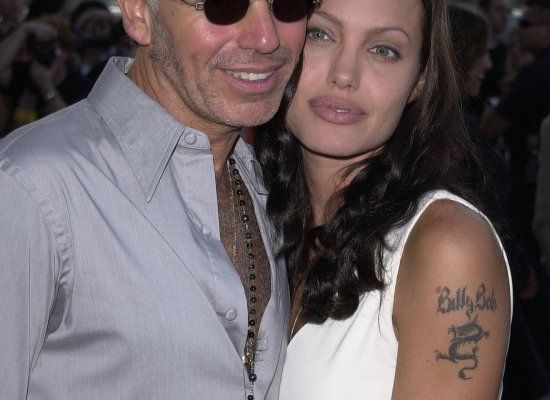 Now as far as I know almost every serious tattoo artist will attempt to talk you out of having your love interest's name tattooed on you. The reason is simple, tattoo's truly are forever, love is not. Even if you opt for laser surgery to remove the ink, the tattooing process scars the skin, and even though the scaring can be rather light, its there to stay. Unless you get a skin graft and additional plastic surgery, that is.
Through out it's history no place on Earth has shown the vulnerability of love more than Hollywood, and you would think that celebrities would know better than to make that simple mistake. But nooooo! I mean, come on, most celebrity hook ups last about as long as Courtney Love's sobriety. So, in the interest of a where are they now, let's look at a few of the more famous of tattoo's most famous faux pax.
Angelina Jolie had 'Billy Bob' with a small tribal dragon underneath tattooed on her left shoulder. After their divorce in 2003 she had the tattoo laser removed and covered with the coordinates of the birth places of each of her and Brad's children to disguise it even further. If you get a chance to see the new tattoo you'll notice that you can still see the bottom of the dragon peeking out below. See what I mean about a tattoo being forever?
Thornton turned his 'Angelina' tattoo into an angel.
Denise Richards was so in love with Charlie Sheen that she had 'Charlie' tattooed on the inside of her left ankle. After their rather messy divorce in 2006 she had Charlie covered up with a tattoo of a fairy.
Blake Fielder and Amy Winehouse exchanged names with him getting 'Amy' inked behind his right ear and Amy getting 'Blake's' tattooed over her left breast. Well as of the 16th of this month it's 'Blake's' no more, and I'd guess that tattoo is scheduled to be covered up, laser removed, or both. At least Blake could hide his by letting his hair grow, or turning up his collar a la James Dean.
Levi Johnston, father of Bristol Palin's baby, had her name inked around his ring finger. They ended their engagement in March, about two months after the birth of their son. Dude, your supposed to get the rings tattooed on after the marriage, not before! That permanent white mark is going to make it hard to convince another chick that your not married.
Of all the celebrities who have made this all too common screw up, perhaps Megan Fox and Johnny Depp have the best outlook. Megan has her on again, off again boyfriend Brian Austin Green's first name tattooed across her lower belly, but figures she can always have a baby named Brian so she won't have any regrets. Unless she ends up having only girls. Hmmmm? A girl named Brian? Sounds like the makings of a country song to me.
Depp simply changed his infamous 'Winona Forever' tattoo into 'Wino Forever.' About the only problem with that would come from an AA meeting. Then again, they might just think he's being honest.
Peace out, Gang. 😉