A short while back, last week as a matter of fact, I made the suggestion that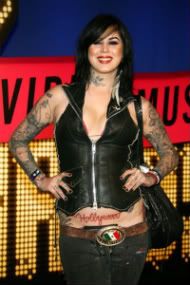 if one wanted to keep their visible tattoos then it would be possible to conceal them by using a concealing makeup. Makeups that are designed for concealing scars seemed a logical choice, yet imagine my surprise when I discovered that the first lady of tattooing, Kat Von D has designed a concealer for just that purpose.
Kat, who is just as famous for her tattoos as she is for her tattooing, already has a makeup contract with megabrand Sephora, so I guess it wasn't such a stretch for her to introduce a concealer for just such a purpose.
There are times when having visible tattoos can be a problem, usually when
job hunting, and instead of having the expense of laser removal, or putting your trust in one of those "miracle cures", why not just do the logical thing and hide the ink? It beats the Hell out of trying to find sympathetic employers, or limiting your ink to areas of the body that can be covered with clothing.
Kat assures that her product is non staining, won't rub off on your clothes, and waterproof. All I can say is it's about time. A concealer made expressly for tattoos was a long time coming. Thanks Kat!