Yeah. I know. I copped the title from the greatest southern rock band of all time, Lynyrd Skynyrd. Well as an old southern boy who calls himself Dr. Hook, what did you expect? Far more than just great music comes out of the south. Great and innovative tattoo artists make their home there as well.
So, without further ado from me, let me introduce you to my newest friend, Sean Herman of Royal Street Tattoo in Mobile, Alabama.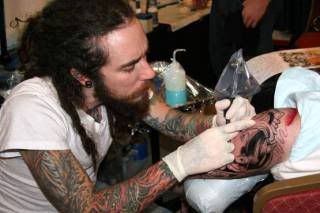 Another true southern gentleman, Sean apprenticed in Birmingham under the tutelage of Kele Idol:
"Kele showed me how to apply a solid tattoo and challenged me in illustrating and creating a visual appealing piece.  Justin Kontzen, the shop owner, also taught me quite a bit while I was there.  I'm incredibly lucky they were willing to show a young punk like me anything, and it is because of them that I'm getting to do what I love."
I'm glad they did. As you can see from the few examples of Sean's work seen here both Kele, and Justin have every reason to be proud of having Sean as an adept pupil. Sean's sense of style, and solid, eye-popping work convinces me all the more that there really is no excuse for anyone to have a bad tattoo. You can see even more of Sean's ability here at his Online gallery.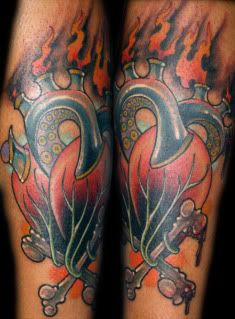 Other than cheap bad judgment that is. Lets face it, Gang. With talented artists like Sean out there working, if you got a bad tattoo, that's on you.
Sean sites the work of the great masters, such as Bernini, as some of the biggest influences, as well as being a fan of comic book art and horror films while growing up.
"I loved Madman and other Mike Allred comics.  I also loved horror films, so the paintings of Basil Gogos have been a huge influence on me.  I was fortunate enough to meet him a few years ago, and it was a huge experience in my life.  I couldn't believe I was shaking his hand and talking to him.  He said some of the most encouraging things I've ever heard, those things have kept me going to this day."
Strangely enough Sean went to college for a lot of different things other than art, one of them being the Theater. While studying for that class, one of the things that was required was costume design. It was there that he began to do sketches for costumes. The art bug obviously caught, but he credit's the tattoo artist friends around him for his skill. And, brother, we are talking some serious skills here.
Sean's amazing talent has been featured in such great tattoo magazines as Skin and Ink, International Tattoo Magazine, Tattoo Revue, Skin Deep, Tattoo, Savage, Pain, Urban Ink, and on and on!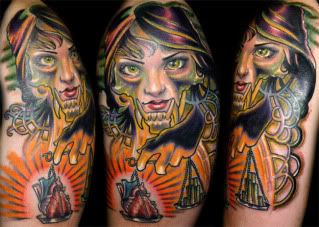 "I've been very fortunate to have my work published in magazines that are seen around the world.  The editors mean the world to me, and I really appreciate what they do. I'm always surprised and thankful when I hear they have published any of my work."
Sean has also won numerous awards at many conventions in his short six years as a professional, But he keeps a philosophical outlook on such things.
"Unfortunately, many tattooers today are focused on awards and magazine articles, and they are forgetting what really matters, and that is the client.  I've fallen in the same trap before, but have realized that we are nothing without them.  I would say that they are the thing I'm most proud of in my career, I couldn't do what I do without them, and we can never forget that."
I'll give that an Amen! I've said so myself quite often in my articles here, and I've noticed that every artist who grants me an interview says the same thing. For artists like Sean it's not about the pats on the back, (although those are nice, and I will say they deserve them), it's about the collectors. With any good tattoo artist the client comes first. Thank you for backing me up on that one, Sean.
One of the questions I ask a tattoo artist in my interview is, "What would you like the Tattoo Community to know most about you?" Now, I know this is a tough question to answer. That's why I use it. You can get a real feel for the artist by their answer.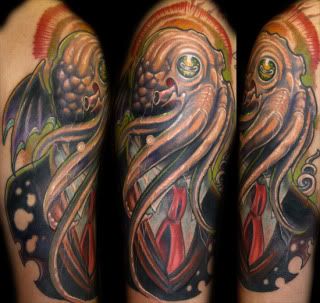 "I would want them to know that I'm thankful that I get to participate in the magic that is tattooing, and that I'm thankful they let me be a part of it.  We are part of a lineage that has been around since the dawn of man, and must be respected, and hopefully I do that.  I would also want them to know that we are now the voices people are listening to, so hopefully we have something good to say."
Like I said before, a true southern gentleman.
As his biggest influences in the noble art of tattooing Sean gives credit to the time he spent tattooing with Josh Woods, who taught him the art of color blending and how to use bright tones.  He also gives a well deserved nod to his partners in crime at Royal Street, CW, Pony and Pete.
"They teach me things everyday that have completely challenged and changed how I tattoo, and how I look at tattooing in general.  Their use of composition and simplicity challenges me to rethink every line I draw and do everything with complete reason.  Gabe Smith also had a great effect on me.  His constant reminder of using more lines sticks in my head everyday.  I'm really fortunate to have the friends that I do."
You can contact Sean, through his site seanherman.com or his My Space page. As well as the entire Royal Street crew at:
Royal Street Tattoo
110 N Royal Street
Mobile, Al 36602
Phone: 251-432-4772
Either a trip to Mobile, or being lucky enough to catch Sean at a convention will be well worth the effort.
All images ©Sean Herman. All rights reserved.