I tend to find it very interesting when people get corporate logos or the produced goods of corporations tattooed on their bodies.  Incidentally, Billy the Billboard, you fascinate me.  Tattooing those company advertisements on your body is gutsy stuff as far as I am concerned.  And yet, Billy's level of corporate tattooing is understandable because Billy is no doubt, getting some nice cash for his tattoo advertising.  Even that guy who got the iPhone tattooed on him several months back did it in order to win a contest and thereby received some sort of financial or product compensation for his efforts.
However, when someone tattoos a product or a corporate logo on their body simply because they really enjoy that product or corporation…well, that just baffles me.  Enter one Steven Smith, aka "The Zune Tattoo Guy", aka "MSZuneFan".  Previously, Smith had become internet fodder when his first Zune tattoo in honour of Microsoft's Mp3/iPod wannabe/hand held electronic thing, impressed no one and made blog message boards across the internet universe light up with mockery and disdain.  That mockery and disdain only escalated when Smith proceeded to get two more tattoos in honour of Microsoft's Zune gadget.  One tattoo displayed Microsoft's catchphrase "Welcome to the Social".  The other was of the Microsoft "Share Bunny".  It does indeed seem like a cheap cry for attention or that at the very least, it was done in hopes of gaining something nice and green from Microsoft.  Not so, says Steve Smith:
"All three tattoos were done in love of the Zune and I was never promised anything before getting any of the tattoos."
Alas, it was not to be all rainbows and cupcakes.  After a fallout with the second generation 80GB and 120GB Zunes, Steve Smith began to regret his Microsoft themed tattoos.  That's like, you know, really too bad.  Really too bad.  I mean, Steven Smith was just a practical guy who loved his Zune and even considered legally changing his name to Microsoft Zune.  Why?  I don't know.  Maybe he wanted to do the furthest possible things from both sane and cool that he could come up with.  What a doozy that would have been!  But with the fallout over the newer Zune products and the realization that Microsoft didn't actually want him to be named Microsoft Zune, Smith wasn't happy.  He wanted to get rid of those tattoos.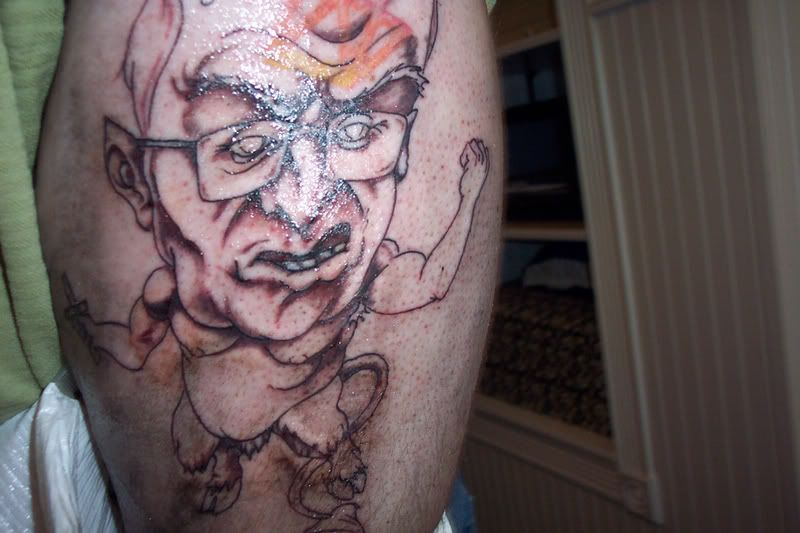 So what did Steve Smith do?  He covered up (sort of) one of his Zune tattoos with a tattoo of Dick Cheney as the devil.  Another sound tattoo decision.  Smith says there might still be hope for him to change his mind about the Microsoft Zune however, so until then, the world will just have to hold its breath in anticipation.