With the recent court ruling which found that California tattoo artist Johnny Anderson's First Amendment rights were violated when he was prevented from opening a tattoo studio in Hermosa Beach, it's easy to forget that many people around the world don't have access to the luxury of similar rights.  Being a tattoo artist in South Korea, for example, the problem isn't where you can or can't open a tattoo studio, it's that you can't be a tattoo artist – at all.
Much has been said in the past about the laws that attempt to keep South Korea tattoo free.  In short, they don't work.  The Korean Tattoo Association estimates that there are 22,000 illegal tattoo artists nation wide.  Unlike other countries where "illegal tattoo artist" means that the artist in question is a scratcher, in Korea any kind of tattoo artist is illegal.  The only people in Korea who are legally permitted to tattoo are doctors, which obviously doesn't happen very often and is completely, 100% ridiculous.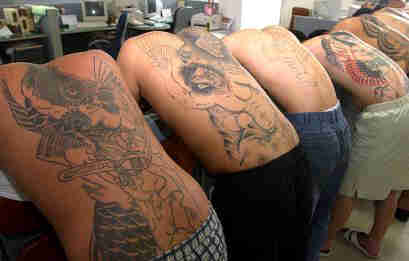 "South Korean law still labels men with large and obvious tattoos as unfit for the military, reasoning that they cause "abomination among fellow soldiers." Scores of tattoo artists have been arrested for providing would-be military conscripts a loophole to avoid the draft.

As a result, the tattoo industry lurks underground. Most parlors have unmarked fronts to avoid detection by police, who have raided the shops to confiscate tattoo machines and fine proprietors as much as $10,000."
Despite these strict laws against tattooing, things are slowly beginning to change.  There has recently been some rethinking of the concept of tattoos and the images associated with them.  Like neighbouring Japan, a country that also carries a somewhat archaic point of view toward tattoos by associating them with gangsters and organised crime, Korean youth seem to be the tattoo industry's saviour.  A new found interest amongst the younger generations as well as amongst Korean celebrities has begun to slowly remove the concept of troublemaker from its previous associations with tattoos.
Still, there's a lot of work to be done.  Tattoo artists in Korea literally live in the shadows, forced underground in unmarked studios, not unlike the speakeasies of the American Prohibition era.  It most certainly is time for Korea to take another look at the laws that prohibit its artists from being free to make their living honestly and legally.  I know that I'm not alone in hoping that such a time comes sooner rather than later.