The moment that I laid eyes on the tattoo work of Fred Laverne, I was hooked.  Everything about it drew me in: the sharp, full use of colour, the quality of the images, the overall smoothness of the designs and their ability to practically leap off the skin.  In fact, looking at Laverne's work I was reminded of the Disney film Mary Poppins.  Several scenes in that film, if memory serves me correctly, had old school animation painted directly on to the live-action frames.  The end results were chubby blue birds and other Disney-esque beings floating around the heads of Dick Van Dyke and Julie Andrews.  It's that sort of colourful otherworldly existence that the tattoo work of Fred Laverne brings to our live-action world.  And FYI, it's rad.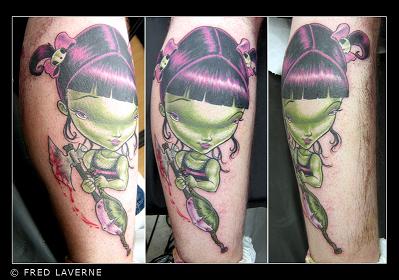 After discovering Laverne's work, I headed over to the website for his Menton, France based tattoo studio, Voodoo Lab.  Despite receiving a full dose of Laverne's stuff, I unfortunately wasn't able to come away with a lot of information about the man himself.  My French isn't quite up to snuff and the entire site is in French (I think this has something to do with Laverne being French as well as living and working in France), but I managed to learn that Menton, France is on the Cote d'Azur and that it's a charming little city known for lemons and maybe some dogs and some roses made out of paint?  Uh, it's probably best not to take my word for it, but it does still sound (and look) like a really cool place.
Take the time to look through Fred Laverne's portfolio.  I'm not a betting man, but if I was, I would bet that you're going to love what you see.