Oh man, I'm sorry to say that it has come to my attention that I've made a mistake.  Oops.  Yes, I know, you would never think that I could make a mistake because I'm always so perfect when it comes to Tattoo Blog, right?  I know.  It's shocking for me too.  Anyway, I have to make the massive correction that the fabulous tattoo skills of Steph D are not those of a woman, but of a man.  I apologise for being so silly and not getting things straight, but I admit that I didn't have a lot to go on and I guess I just assumed (quite wrongly) that Steph was a woman and not a man – I've never seen a photo of him.  At any rate, that doesn't change the quality of Steph's tattoo work in the least and so, I represent to you Steph D.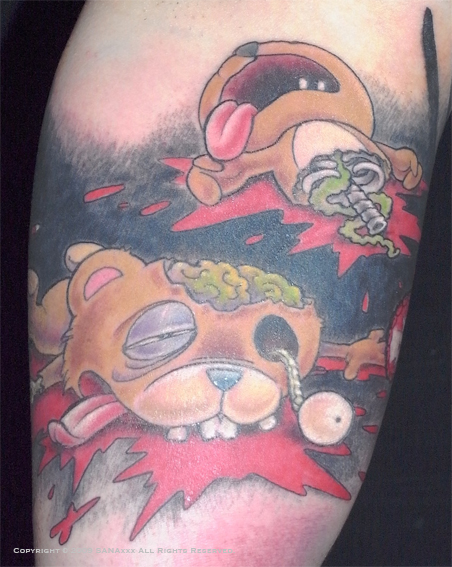 Working in Saint-Germain en Laye, France at Dimitri Tattoo, Steph D is pretty much a mystery to me.  I can't tell you anything about him because I don't know anything.  All I know is that from the moment I saw his online portfolio, I had to immediately pass it on to others, telling them that they had to check out this artist from France.  His style is bold and vivid, fun, serious, silly and crazy.  It takes all the things that I love about really great tattoo art and brings them to life just a little bit more.  As far as I'm concerned, Steph's on another level with his work and seeing tattoo art like this just serves to remind me that every day, everywhere, tattooists are upping their game, putting out work that jumps off the flesh and has the ability to shock, surprise and please.
Keep doing what you're doing, Steph D.  You're unbelievably good.