There are not that many times that I can recall of when I've been looking for a tattooist to profile and stumbled across one that just blows my mind right from the first glimpse at their portfolio.  Guys like Grime and Nick Baxter are some of the artists who have done that to me, but between the artists who really stand out and the ones who just impress me, there is typically a long wait.  I know that it may be blasphemous to say it, but I've only just discovered Carlos Torres and holy smokes, dude is fucking killing it.
It's not simply a matter of Torres working in black and grey, it's a matter of Torres taking black and grey to another level – I'm not joking or exaggerating, either – Carlos Torres has taken black and grey to a level that is going to be insanely difficult for other artists to follow.  This is black and grey portrait and realistic work that is to be admired for its form and presentation and just plain KABOOM! factor.  This stuff leaps off the skin and is a genuine treat to look at.  I envy each and every person who has ever had the good fortune to be tattooed by this man.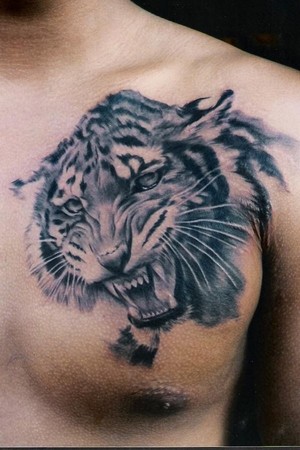 Torres tattoos from Los Angeles, California.  Aside from his tattoo work, he also paints and believe me when I say that his paintings are impressive as well.  I love seeing good art and when I see a tattooist who can elevate his or her work to the level that Torres has, I have nothing but admiration for them.  This is a rare talent and I sincerely wish Carlos Torres all the best in his future.  Unbelievable stuff, man.  Thank you.
Oh yeah, one last thing: Torres probably has the best tattooist website that I've ever seen – and I've seen a lot.  Tattooists take note, Chris Torres can inspire on more levels than one.